The Shadow of the Wind - Carlos Ruiz Zafon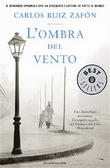 Back cover:
In Barcelona a summer morning in 1945 the owner of a used bookstore conducts year-old son, Daniel, to the Cemetery of Forgotten Books, a secret place where thousands of volumes are subtracted from oblivion to which time has erased the memory . And here comes Daniel in possession of a book "curse" that will change the course of his life, introducing him to a world of mystery and intrigue associated with the figure of Julian Carax, the author of that volume. Daniel is left stunned, while from the past begin to emerge stories of illicit passions of impossible love, of friendship and absolute loyalty, and of a grisly killing spree in an abandoned mansion guarded secret. A story where Daniel finds himself gradually disturbing parallels with your life ...
I did not read anything by Zafon, and I will not read another. And I can not understand how this book could have become a best seller. Stuffed with unnecessary verbiage and full of cliches. A meatloaf
sickly sweet, unbelievably intricate to hide a banal background almost embarrassing, a mysterious character who's not mysterious has nothing, as we understand from the very beginning who is behind the true identity of Coubert Lain.
And the narrative style of the author, at least in this book, it shows green, immature and totally devoid of any interesting ideas. A book suitable for readers, perhaps naive, idealistic dreamers who do not know the strength of a true crime novel. In short, unlikely and exhausting.
FINAL VOTE: 5 / 10